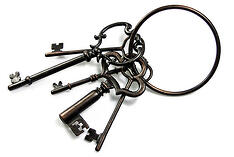 With the changes Google has made to its search algorithm in the Hummingbird update, you might be wondering if there is still any point to focusing on optimizing content around keywords any more. You may be aware that the essence behind the algorithm overhaul shifted the way that Google's search engine processes search queries to focus more on full questions rather than responding to particular keywords. Not to mention the fact that marketers can no longer see the keywords searchers used to connect with their content. Bummer.
But this doesn't mean keyword optimization is out, it simply means content should be created for the purpose of solving problems or answering the questions which is what everyone should have been doing already. So, it is still super important to put a lot of energy into ranking for keywords.
In spite of conventional wisdom, we are tipping our white hat and opening the kimono to reveal some out-of-the-box keyword ranking strategies that will help you to be more successful this year.
The 7 Keyword Ranking Strategies
Make sure you are targeting the right words

Will your buyer personas really find content on your site that matches the keywords they are using?
Does the keyword have something to do with your products/services? If not, you might get a lot of traffic, but none that is interested in your business. Make sure the keywords you use match up with a particular business goal or marketing campaign that makes sense.
Make sure you have an idea how difficult it will be to rank for a particular keyword using online marketing software such as Google adwords or Hubspot keyword analysis tools. Additionally, conduct a Google search for the keyword once selected, and see how the competition looks. Lots of ads typically means lots of competition
See how well your keyword performs for your business by testing it out on Google Adwords. Develop a quick campaign and drive traffic to a key landing page on your site - how well did this traffic convert? Was it worth developing an organic strategy around?

Use multiple keyword analysis tools to assess traffic volume and competition for the keywords that you are interested in. The numbers from different tools often provide traffic and difficulty estimations that are not the same, sometimesdramatically so. Here are several free tools to use:
Find relevant keywords by mining industry online forum sites for keywords and terms that people are using in their dialog with one another. Sound hard? No. Feed the URL of the forum into the Google Keyword Planner which will spit out an xcel list of commonly used terms from the forum that you can then review for keyword ideas.
Here's another cool idea. Earlier I mentioned that you should consider conducting a Google search to get a feel for competition, but while you're at it, also look at the bottom of the search results page to find a listing of eight searches related to the term you just performed your search on.
Freshness is next to Google-ness, or something like that. The point is to keep your ear to the ground in social media and other venues that will give you an idea of topics that are trending in your industry. If you can turn an applicable blog post around quickly, you might be able to ride the wave on this topic. Some refer to this as 'newsjacking' - we call it a great idea, nothing wrong with it.
Run prospective keywords through Google Insights for Search. This tool produces a graphical representation of keyword performance as a function of time spanning a 12-month average. Putting your keywords through this tool may help identify how keywords are trending and how they perform seasonally which will allow you to plan your content deployment more strategically.
Finally, look into the mirror and ask yourself if your organization has the skill-set and time to handle its SEO needs or if you need to find an outsourced solution for keyword ranking. Don't worry if the answer is that you need help, because most companies can't do it on their own - there's no shame in asking for help when you need it!
So that's it. Remember to stay on top of how your currently ranking keywords are performing, it's not easy to rise to #1, but a lot easier falling from it. Also, don't forget to follow up all your research with a strong optimization plan for the page you use the keyword on: page title, URL, headers, alt-tags, etc.
You might also like to take a look at our free 52-page e-Book focusing further on SEO, design, content and how to convert visitors into leads and customers:

'Keys' Photo Credit: Brenda Starr