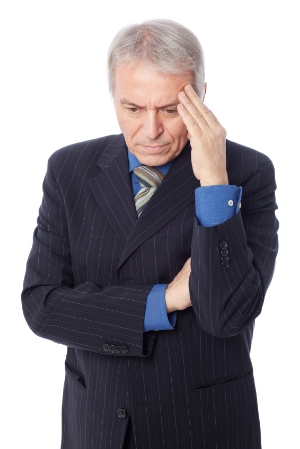 The good news is that Chuck the CEO decided to work with a consultant to develop his inbound marketing program, ultimately boosting traffic and conversions on his company website by several orders of magnitude.
Indeed, taking the steps to really do it right rather than attempting to leverage a keyword person, or an SEO specialist can be a brave investment due to the radical change in how he looked at and had to modify his online marketing strategy. The bad news is that he had to struggle so much in the beginning - unnecessarily.
Chuck, the CEO of an emerging medical technology consultancy, like so many before him, fell prey to the thinking that he would be able to handle content creation on top of his other regular duties as leader of the company. It sounded reasonable to him because Chuck is an outstanding writer and obviously knows his business extremely well. The thing he had glossed over is the sheer volume of content that is required for building traffic to his website, and was, in reality, barely able to pump out one post per month. Unsurprisingl, in the early months, there was essentially no improvement in traffic to his website.
After several campfire talks, much cajoling and more than one tear-soaked hankie, Chuck faced the inevitable fact that he was not going to be able to do this by himself and needed to rely on a blog writing service - and quickly.
How A Blog Writing Service Helped Chuck Succeed
This is one of those fundamental process changes that has an enormous bang for the buck. Following is a summary of the key learnings that emerged for Chuck from this new solution, and how the service produced results for his company.
TIME Savings

- This should be fairly obvious, but somehow evades many. On the average, it takes those who don't write blogs for a living around 2 hours to create blog posts (such as this one) not including the planning and implementation time.

Correct SEO Implementation - People tend to completely over-think Search Engine Optimization (SEO). It can be confusing to folks given the number of Google updates that have occured in recent years, so relying on an organization that is current with SEO best practices is the optimal approach for most CEOs faced with content creation. Today, in actuality, it is fairly simple to handle SEO successfully if you author material that is:

Useful

Interesting

Written clearly in an organized way around a keyword oriented toward your audience




Organic search vs. paid search - While this point has more to do with the ROI of creating your own content, it speaks to the benefits of investing in someone to create content for you rather than investing in paid search. Remember, the content published in your blog will be working for you long after it has been written. There are articles on our blog written in 2011, for example, that are responsible for a respectable portion of our regular web traffic today. If we had invested in PPC instead of our content writers that year, our popularity for the topic would have tanked as soon as the final coin dropped.

Blogging importance is increasing by Google -

Google has moved away from a purely keyword-centric focus on search.Today, we create content that answers questions rather than simply being written around a keyword. But this can (and most likely will) change in the future which is why it is important to work with someone who keeps up to date with the ever-changing Google algorithm in order to optimize content appropriately

Regularity

- Yes, it's always good to be regular, just ask your doctor! Consistent posting of content on your website signals to search engines that the site is up to date and providing relevant content to your readers. Stand naked in front of your bathroom mirror and ask yourself in all honesty: "how many posts will I be able to produce each week?" If your site needs more visitors, this number bloats, ie. 3 - 4 posts per WEEK. Your blog writing service will create a blogging calendar complete with keywords, titles and deadlines and then execute to that schedule for you, on time.
Trusted expert status - Building on the point above, leveraging those in the business of creating exceptional, useful, engaging content for your blog will elevate you to trusted advisor level. This recognition ultimately helps your site visitors to make up their mind quicker regarding purchasing your products and/or services
Process -

Writing effectively for a regular blog requires many hours of planning, research and execution so Chuck was freed up to do the important things that a CEO normally does rather than burn hours on the weekend creating content that still requires review and optimization. Good

blog writing services know what it takes to build traffic that is:

Qualified

Organic

Ready to lead visitors down your sales pipeline
So Chuck's site ultimately blossomed and now he's a happy and healthy CEO doing CEO stuff without the stress of content creation. Let's hope he stays that way.