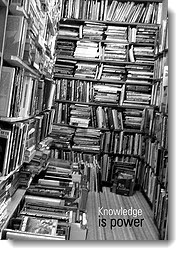 Having bought in to the benefits of inbound marketing, you're ready to apply them to your business. However, when you sit down to start planning, the reality of creating an endless stream of content washes over you, freezing you like a deer in headlights.
Here's where the idea of curated content rides to the rescue. Simply put, curated content is the practice of finding high-quality content with powerful relevance to your chosen topic or theme and sharing it with your audience. You sort, evaluate and organize information much like a curator does with a museum collection.
The Basics of Curated Content
The Content Marketing Pyramid illustrates how valuable the use of curated content can be. At the top of the pyramid is content that's dense but extremely time- and labor-intensive while also being difficult to distribute. The broad base is made up of curated content which can be produced much more easily and frequently.
Technology has turned the Information Age into a deluge, with seemingly endless sources of information. Just as you may feel overwhelmed at the idea of creating content, members of your audience may feel helpless when it comes to navigating these digital mazes. When you do the work for them by weeding through the volumes of information to pass along the most relevant and valuable nuggets, you establish a position of thought leadership.
Again, this is where "curating" comes into play. Don't rely on simply passing along any content that seems vaguely interesting. Have a specific strategy in mind and focus on material that fits the theme or topic you're centered on.
Why Use Curated Content?
Everyone's looking for ways to drive traffic to their site. Curating content provides another avenue for increasing followers. Consider these benefits and how they can enhance your current marketing strategy.
Educate your audience. Rather than relying strictly on original content that offers a one-sided view, bringing in other voices engages your followers in a larger conversation with deeper insights and perspective. Your audience will look to your site as a marketplace to exchange opinions and ideas rather than just a forum for cut-and-dried data.

Benefit from inbound links. When using curated content, you link back to the original source. In turn, the author will likely link back to your site, giving you exposure to a whole new avenue of followers. Since you've done your homework, the original author is a high-authority figure, meaning the followers you draw from that end are probably going to be educated and highly motivated. As the icing on the cake, readers will also share your engaging content in their tweets, blogs and other forums, exponentially growing your audience.

Boost your SEO rankings. As you seek content on a particular topic, you'll target high quality short-tail keywords relating to it, resulting in an increasingly higher position on those keywords. It also gives you an opportunity to use long-tail keywords when compiling your pieces that will help you reach a more focused audience.

Position yourself on the cutting edge. Using curated content to become a source of developing news takes advantage of that speed by boosting your presence in search results. It also offers your audience a place for discussion and commentary, resulting in a greater engagement. People will begin looking to you to stay informed and up-to-date in your particular areas.

Nurture and generate leads. Content marketing is an obvious source of generating leads, but it's a delicate balancing act to appeal to those who are ready to buy without alienating those who are in the embryonic stages of your sales cycle. You may also have several buyer personas in your target audience whose interests may not necessarily overlap. Curating content gives you a means to provide a wide variety of information that's pertinent to a broad cross-section of followers.
Working with an experienced, professional inbound marketing service can help you integrate curated content into your overall strategy. Taking the time and effort to do it right can pay dividends in terms of maximizing your online presence.
Photo credit: Grzegorz Łobiński