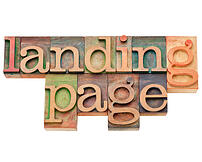 In today's global marketplace, carefully designed landing pages are a necessity for companies interested in getting the best out of their internet marketing campaigns. So, this prompts two questions:
What factors should be considered for successful landing page development?
Is there such a thing as a 'perfect' landing page design?
The Purpose
Landing pages are developed with the sole purpose of attracting visitors and converting them into customers. However, building a perfect landing page is not as easy as you may think. While knowledge helps you create a landing page from scratch, persistence is key because you can count on needing to try different strategies until you succeed in finding the best combination of verbiage, graphics, and overall flow that produces the highest conversion rates.
Indeed, to get that 'perfect' landing page, you need to test out different styles, monitor to see how they perform, make changes according to your findings, and monitor again. It can be frustrating when, after working really hard to drive traffic to your website, nothing happens – believe me, we've been there. When results don't materialize or things actually get worse, you may need to start from scratch or re-invent the page you already have. Here are 8 key factors to keep in mind as you develop your next landing page:
Set Goals: When it comes to landing page development, the most important goals to keep in mind include:

Knowing your buyer profiles or 'personas', in order to design pages that are customized to, and therefore attract the right kind of prospects
Engaging visitors through relevant content is one of the best ways to convince them to return for more, enabling you to lead them deeper down your sales funnel
Capturing your prospects' information by having them fill in a form
Providing traditional sales channels (e.g. phone numbers, email addresses, etc.) for the visitors who aren't quite ready to disclose their personal information.
Resist the urge to be self-promoting or 'sales-y' and develop content that helps your prospects


Deliver Relevance: Most visitors arrive on a landing page with a clear intention in mind, thanks to a call to action elsewhere on your site. To help them decide quickly to leave their information, be sure to create concise, to-the-point headlines. In addition, most people "scan" online information instead of reading it. Thus, all the elements of your landing page should be simple and pointed, telling them:

What they get
to leave their info, and
To download the content.

Provide Sufficient Detail: One of the most important aspects of landing page development is to offer detailed information regardless of whether it comes in the form of content, images or videos, as this is what motivates visitors to sign up.

Opt for Painless Design: To increase visitor response, choose efficient landing page design, which minimizes the number of clicks required to "get to the end." Additionally, ensure that all calls to action are clearly clickable.

Don't Forget Responsiveness: Responsive landing page design makes possible optimal viewing experience and easy navigation across all viewing devices without resizing and scrolling.

Consider Longevity: Efficient landing page development also relates to using up-to-date information and active links. Carefully check long-term landing pages for any expired links.

Remember SEO: Be sure to optimize all content for relevant keywords. Include keywords/keyphrases in titles, headings and body of content.

Use Appropriate Page Length: When it comes to page length, it's imperative to develop short pages with key information above the fold of your page. Remember that texts with larger fonts usually deliver better results than texts with small fonts.
Thanks to all these factors, that 'perfect' landing page has become a real possibility, but may be different for different verticals. For additional information on effective landing page development, feel free to contact us at Inbound Market Link.