While social media marketing is still a new concept to many, its accelerated adoption by small business, shows how important it has become in a very short period. Hubspot's blog entry, Small Businesses' Use of Social Media Doubles in Past Year refers to a study conducted by University of Maryland's Robert H. Smith School of Business which
"...found that social media adoption doubled from 12% to 24% among small businesses in the last year".
Soc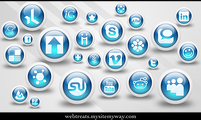 ial media marketing is clearly a serious modality that is like a train leaving the station: if your business isn't on it, you're going to be left behind.
The question we hear the most is, 'what is the best way to use this media - I'm sure my customers aren't interested in what color socks I strapped on today, so what is the right way to proceed?'
Here are seven key points to consider when engaging in social media:
Don't directly promote your business. Remember, you are trying to establish yourself as the go-to guy because you are openly helping people, rather than pushing your product. Heavily promoting your business in social media venues will get you disregarded by your readership because they will simply see you as salesperson intruding in their personal space.
Work on becoming a thought leader Keep your reader's best interests at heart and put something useful out there. Ultimately you run a business and want to sell things, that's understood and the best way to sell what you have through social media is to become the defacto know-it-all about your product or service area. Once you have this beachhead established, your social media following will be attracted to you (and your web site) like a magnet, generating qualified leads for your business.
Work on relationships. You need to develop a following so you should get personal and connect with people. Social media is not a place for you to be an isolated publisher, the point is to interact with people and become an authority in your field in their minds
Be personal while you're working on relationships, remember to be a person! Open up and show who you are. Share some personal stories and other things that make you stand out. Be careful though, you don't want to just type in the first thing that comes to your mind, think then publish.
Listen to new communities before posting. Get a feel for the types of interactions going on before you join in, and once you think the time is right, ease into it slowly - remember your are a newcomer and it takes time to develop relationships, just like in face to face relationships.
Remember that since you are building relationships, you need to be there often to be successful. You need to put the time in because success in social media is a long term strategy and you just can't rush an on-line relationship any more than you can an in-person one.
You might consider getting a social media coach to help you get yourself oriented in the right direction, so don't be afraid to look for the help of a consultant
The takeaway here is that you have to invest in time and act in a selfless manner when it comes to promotion through social media. Frankly speaking, it takes a lot of time, but remember that once you become successful at it, you will probably have built an organic community with momentum that will drive considerable traffic to your business.
Image by Webtreats