Along with the downturn in the economy, came what seems to be a natural consequence in marketing. it seems that the shifting tide from Outbound to Inbound Marketing is well underway, and has been in the making for several years following the maturation of the internet. A campaign in effective marketing online has clearly become a must for businesses small and large alike.
Companies are scaling down their marketing budgets, moving away from classical print, TV, and telemarketing to more closely align with the far less expensive (60% lower cost per lead) albeit more effective ways of Inbound Marketing. We found the 2010 statistical data developed by Hubspot most illuminating in this regard, and decided to take a look specifically at trends in marketing spending patterns. Lets focus on the charts below that were all pulled from the Hubspot report and assess some of the data which was compiled from surveys taken by 231 professionals involved or familiar with their business' marketing strategy.
Fig1. Inbound Cost Per Lead Rating – Segmented by Channel
The chart above (fig. 1) illustrates the cost-efficiency of inbound marketing methodologies as seen by the survey respondents. For example 63% indicated that social media and blogging are below the average cost per lead this year. Both social media and blogging channels have garnered more respondents who made this claim this year over last (Note that in 2009 blogging and social media were lumped together in one category). This is not surprising, really, because clearly it is less expensive to have an employee create content on the internet than it is to generate print ads or participate in an industry trade show as can be seen in fig. 2 below.
Fig. 2.Outbound Cost Per Lead Rating – Segmented by Channel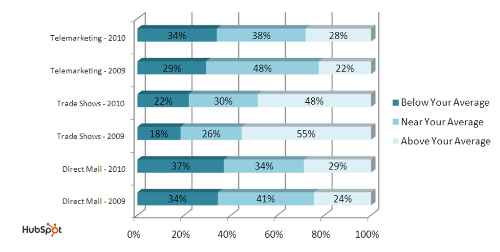 Fig. 3 Sources of Leads that have Become Important in the last six Months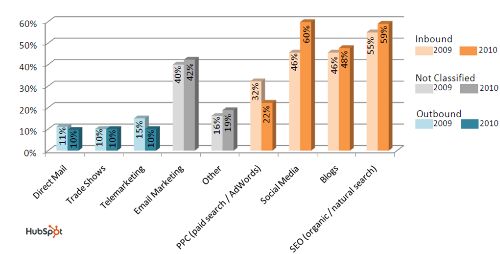 Figure 3 shows that this year, all key inbound marketing channels are viewed as being more important this year over last with the exception of PPC. This may be a direct result of both the cost and effectiveness experienced by respondents of more organic methods of Inbound Marketing. The reduction in importance of PPC may be due to the fact that high levels of success have been experienced in the less expensive, more purely organic solutions such as SEO, blogging, and social media, coupled with the fact that marketing budgets may have been reduced to some degree this year. And lastly, figure 4 below shows that Inbound Marketing budgets are increasing in 2010 over 2009, largely because of the success experienced in inbound marketing in the past.
Fig. 4 Inbound Marketing Budgets are Increasing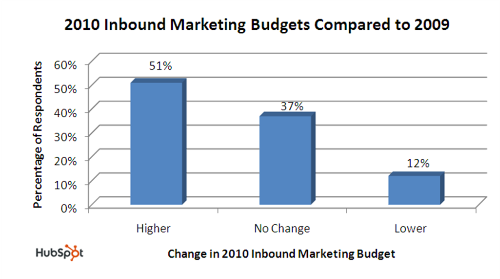 The data is pretty compelling and speaks volumes to the point that our marketing world is changing with ever increasing momentum away from the ways of outbound marketing that was established so many years ago with the advent of the last big innovations in marketing (TV & radio).
The latest innovation, the internet, puts more control in the hands of the customer who now does not need to rely on sales folks to educate them any more: they can just go to the internet and look things up. it's what we all do so it is critical for businesses to market accordingly.
Download our White paper on Inbound Marketing: