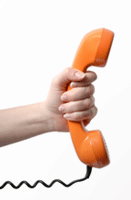 We've written several posts about the best ways in which to position your landing page designs. In this post, we are going to address one particular aspect in a bit more detail: calls to action.
Calls to action are the attractive force that entices your site visitors to click into your landing pages and hopefully convert into a lead for you. following are 8 landing page best practices to forming these elements:
1) Classic Hypertexting - Not all calls to action to your landing page are necessarily going to be in the form of a button, often our old friend the simple hypertext link will be relied on so make them stand out as follows:
a) Always Underline and Bold – this is a classic must do, because people are still more responsive to this form of link so it takes precedence over the design impact that might be argued for. Do what you must to get people to click!
b) Use Color - put it in blue to show it hasn't been visited yet, purple when it has for the same reasons as in the previous bullet: people are used to this and the vast majority will respond to it.
c) Differentiate your links – and do yourself a favor from an SEO standpoint by using descriptive 'anchor text' that correlates with one of your keywords. This is low hanging fruit that many still don't seem to harvest. Using 'click here' does no good because it is a keyword that Adobe Acrobat has sewn up tight (try entering it in a search and see if you can figure out why that happens).
2) Call to Action Images – images seriously drive up the ante when it comes to building an enticing call to action button and are a critical landing page best practice. Luring visitors to your landing page requires marketing mojo in the form of knowing what will attract and stimulate people to click that button and the right image makes all the difference
3) Simple, Descriptive Text – Typically buttons are small, so you need to be pretty creative with the text that you use on it. This is perhaps the most important part in designing an effective offer, and will take many rounds of A/B testing before finding text that optimizes conversion on your site.
4) Above the Fold – your call to action design needs to be above the fold which is the top part of your page that fits in the browser when your page opens. People typically will not scroll below the fold when surfing the web unless the site is particularly intriguing, so put the big guns clearly visible when the page opens
5) Stand Out – Make the call to action clearly stand out, somewhat like an (attractive) sore thumb so that it commands attention and screams out to be clicked. Use of a contrasting color scheme can help accomplish this.
6) Test, test, test – Remember to try different approaches in design and placement of your call to action, and use your internet software to analyze how well each test works. Also, add new calls to action once you feel the current one might have generated as much traffic as it's going to for the time being. You can always bring it out of hibernation and use it again later. Testing is one of the key landing page best practices that simply must be done in the support of a successful modern inbound marketing solution.
That's about it, but for more internet marketing tips on many more topics relating to how to conduct effective marketing on line, we invite you to check out our free white paper, The Essentials of Effective Marketing Online.
(image by DigiSignage)