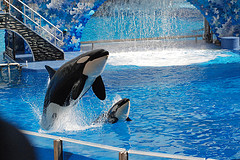 Living in San Diego is simply great. I can recall when the city was largely undiscovered and as I recall, ridiculed by my aunt in Ventura County as a dried up extension of the Anza Borrego Desert where its most notable attribute was the improbable number of sand fleas that inhabited the area. That old image of San Diego has changed now, but it was a change that happened slowly. Why do you suppose it took so long for people to discover how great San Diego is? In my view, it has to do with the speed at which word gets around. 25 years ago, you might bump into a magazine or travel show on TV and learn a little about my favorite city, but, not enough to make you decide to move there.
Certainly, the launch of an effective marketing campaign to adequately entice you to move here would be unlikely back then because all marketing was Outbound, or 'interruptive' in nature. Classical Outbound methods include:
TV advertising
Print and Mail ads
Radio
Billboards
Telemarketing
All of these approaches are proving to be extremely ineffective today because we all have developed good ways to block them out. Superbowl TV ads are fun to watch, but on a typical day, we mute out the interruptions, or simply zip past them with DVR or TiVo. The same sort of thing happens in similar ways with the others in the list.
So how are people deciding what they want to buy? Basically, the advent of the internet has empowered us to make our own choices. We are not dependent on sifting through outbound marketing materials that might have come our way, now we can be proactive by taking the matter in our own hands by cruising the internet. No longer are we subjected to listening to sales persons with their biases and limited knowledge of the competition to help us make a decision about our purchases. How liberating is that?
Well, it's quite liberating and it's a great day for the average Joe, but now that this is the way of things, what do we do about marketing? Essentially, marketing has to become internet oriented which means, the way in which we market needs to be completely based on the way that people shop on the internet. This leads us to the basics of inbound marketing, where the concept is to pull potential customers in rather than push your marketing message in front of them.
In this regard, it is important to adopt an inbound marketing approach here in San Diego, as is rapidly becoming the norm everywhere else. The key steps to follow in attracting customers are:
SEO – Search Engine Optimization, or put another way, optimizing your site to be a search engine favorite.
Social Media - engage with potential customers and develop a public relationship with them.
Write a Blog - Become a thought leader in your area of expertise by sharing quality content
Entice with Calls to Action – provide valuable calls to action to move your prospects down the sales funnel
Develop functional landing pages – be sure to design landing pages that lead your prospects to only one conclusion: fill out your contact form.
Analyze your Data – Instrument your web pages with tracking code that monitors activity on your site through the use of tools such as Google Analytics, or Hubspot.
In summary, your San Diego inbound marketing approach should engage with your website traffic, without being too 'sales-y' which can be off-putting to your readership.
The foregoing are highlights of what you should include in a good San Diego inbound marketing approach, for more details on the above and other essential parts, take a look at our free white paper, "The 10 Steps to Effective Marketing Online".
(image by hyku)