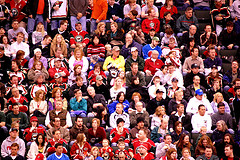 It seems that while Twitter is a very useful social media tool, many people don't give much thought to who they follow as long as they follow and get followed by someone. I sort of discovered this when looking for interesting people that I should be following on Twitter, as I usually do, browsing through the various lists of those who follow Twitter-ers that I had already selected to follow. I noticed that birds of a feather seem to flock together, by which I mean that many seem to follow people within their own business circle.
While it's not necessarily critical to only follow potential business prospects, I think you need to ask yourself what you are doing and why you are doing it when it comes to social media. I mean do you really just want to follow anyone, or do you want to follow people with whom you might interact to generate business? I guess I think it's a blend, but certainly the latter should factor in. A tool to help with all that would be a great find. As it happens, I spent some time yesterday poking around the web for new tools and trends, as I often do during the course of my regular routine, and came across a pretty neat little collection of Twitter apps, that could help in identifying potentially productive Twitter relationships:
Follower Wonk (Free)
A nifty set of tools to help you uncover follower statistics for any user name.
Bio Search Tool - A neat tool that helps you research Twitter bios (the little splitch that people enter about themselves on Twitter) whom you might be interested in. The tool lets you do a keyword search that results in a list of users matching your criteria.
Twitter User Compare - You can select several of user names and compare them to see who they have in common, how often they tweet and other interesting facts.
Custom Report – Not yet launched, this tool will soon offer highly detailed follower/friend reports.
Tweet Spinner
This is another tool by the same developers, but wasn't of particular interest to me. Here is what it does, in case it might be of interest to one of you:
Automatically de-spam and archive your direct message box
Stores and rotates your profiles and Twitter designs
Follower management that helps weed through deadbeat followers in favor of more receptive ones.
Twepe
While I haven't fully evaluated this tool, it looks interesting.
Instant @mention e-mail alerts – get an email if someone mentions you on Twitter
Do all Twittering via email (tweet, follow, DM, retweet & unfollow from the same message)
Summary emails – daily details on new followers, etc.
Ability to weed out spammers, other filtering options as well.
These are a few tools that could be useful in selecting your ecosystem on Twitter, but there are a lot of Twitter apps out there, so look around. Let us know about your favorite Twitter app by commenting below – we'd love to hear from you.
(image by SrijithK)