Although many businesses are unaware, there is a free and easy way to advertise your business for free on Google. In fact, not only can you advertise for free on Google, but your business will typically show up on the first page of results when users search for terms that you enter in your profile. The way to accomplish this is to set up your business on Google Places which is Google's solution to the local business directory. Then, results like the following show up with your business information as a result of a relative search entry: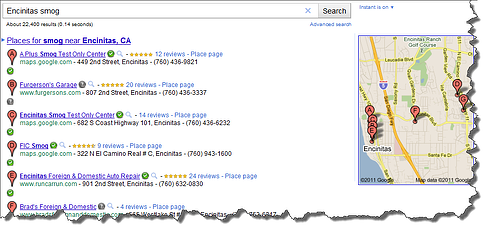 Like many of Google's applications, it is free to list your local business with Google Places. It is also pretty simple and can be set up in just a few minutes. Here's what you need to do:
Go to google.com/places and click 'Google Places for Business'
Create a Google account or log on with one you already have (associated with your business)
Click the 'list your business' button
Enter your business phone number (Google will check if it already has information on your business)
You will then be taken to a form to fill out the following:
Basic information (country, address, website, etc.)
Service areas
Hours of operations
What payment options you accept (cash, check, credit…)
An opportunity to add photos and videos to your listing
Additional details (parking, brands carried, etc.)
Once you get done entering this information, you are ready to submit your data to Google who will then verify that you are the owner of the business by calling the number you provided during normal business hours. Of course it's a good idea to cue in all employees that are likely to answer the phone that Google Places will be calling to verify ownership so that everyone knows what to expect. Once your Google submission has been verified, visitors to your Google Places page will see a green tick mark and statement proclaiming that yours is an 'owner verified listing'. Anyway, this is a pretty nifty way to get free local advertising on the first page of Google, so if you haven't already done so, go ahead and reach out and grab that low hanging Inbound Marketing fruit!
There Are Other Ways to Advertise For Free On Google
We've used this free and honest method (Google Places, that is) to help many businesses appear on the first page of Google, only to find out afterward that they are actually also paying for placement in Google's search results as part of their marketing tactics! Every month, many businesses invest hundreds of dollars in pay per click (PPC) campaigns that place them in the paid sections of the search results window, as shown below: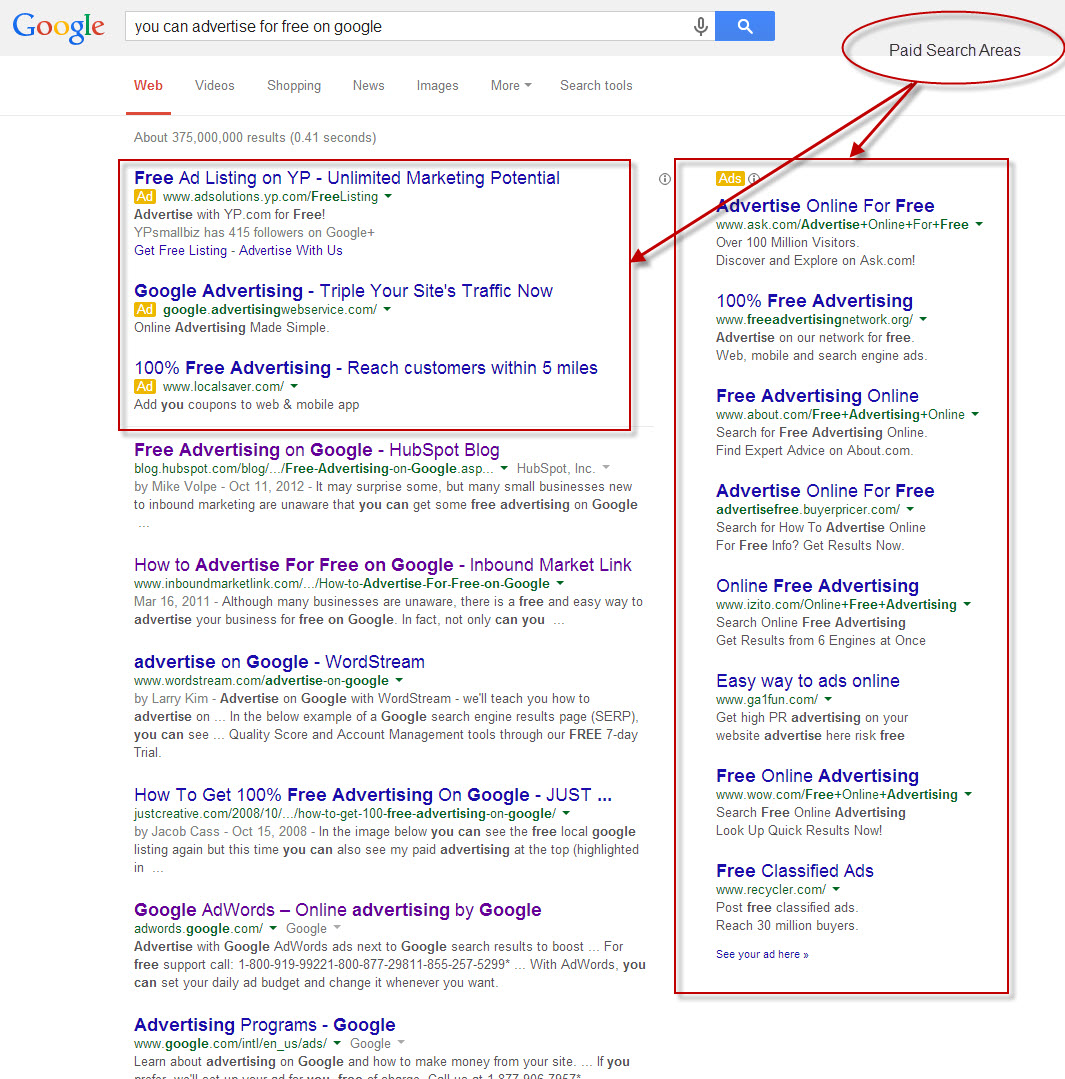 This seems like a pretty good way to position your business, right? You pay some money and you immediately show up at the top where people will notice and click on your ad, correct? It is true that the links in the two red boxes above get clicks, but there are a few things to remember. Current data shows us that most people tend to avoid clicking on links in the ad areas because they know that these are typically purchased by commercial sites and will lead to a sales pitch of some sort rather than real information.
The fact is, most of us don't want to be sold to, we want to explore and research for answers on our own (which is probably why you are reading this post in the first place). This leads us to the area that is not within a read box in the image above where you may have found the link to this article. This is where the 'Organic Search Results' appear.
The really neat thing about ranking in organic search results is that it doesn't cost you money to get there, just focus. Not only that, but if you have created content that is truly useful, your site page that contains this content will remain listed high on the top of the first page as long as it is relevant - indefinitely.
Now that you are armed with this idea, you should also be aware that it is only part of the big picture when it comes to developing a robust online marketing strategy that generates leads and customers from the traffic that finds you.
I invite you to learn more about on-line marketing by reading our free white paper - "The 10 Essential Steps to Effective Marketing Online" - just click the image below to download, read the paper and let me know what you think.