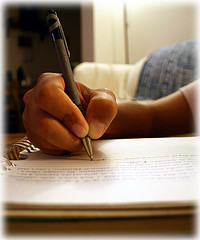 We know that on-page Search Engine Optimization (SEO) is an important part of the story when it comes to generating traffic to your web site. The objective that we must all strive to achieve is to convince the major search engines, primarily Google, that our sites are worthy of their attention so that they will then serve up links to our sites when people search on particular keywords.
While many of us are aware that SEO is important not everyone recognizes that there are two key facets to optimizing your site for search engines: on-page and off-page, with off-page SEO having the most clout in a successful SEO campaign. The difference between the two is simple. On-page SEO refers to optimization that you perform on your site pages including content creation around target keywords, page titles, meta-descriptions, etc., while off-page SEO has to do with the ability of your site to attract the attention of your community via in-bound links, or links from other sites.
So, that's the tricky part, isn't it: how do you entice other, more authoritative sites to link to you? One approach to this is by guest blogging on one of these other sites, but in doing this, you run the very likely scenario that the more authoritative site will rank higher than you for your own article.
Ok, that was a long build up to the meat of this article which is to illuminate the following 5 ways to help keep your own ranking for articles that you author and publish in two places when guest blogging on another site:
1) Help Google Figure it Out with a time stamp – When Google discovers two articles with the same content, it doesn't present both articles in the Search Engine Results Page (SERP), rather, it tries to figure out which one to refer to. You can help Google by first publishing the article on your own blog so that the time stamp is earlier than that of the other site that you publish it on, so that Google recognizes you as the original author.
2) Ask the authoritative site to Link back – And, use anchor text identical to the article title, being sure to link directly back to the article page itself on your site.
3) Don't create an infinite loop – After getting the link, be sure not to link back to your article posted on the authoritative site from your site because that will make it impossible for Google to clearly determine which version to present in the SERP, and chances are, it will pick the site with the most authority and not yours!
4) Additionally ask for a noindex from the authoritative site – ask for this as a matter of course to help bolster all the other approaches listed here because at the end of the day, there's no way to absolutely guarantee that Google will take all of your cues anyway – it's going to do what it deems best regardless of what you do.
5) Use Google's solution and canonicalize – Google addressed the issue of duplicate content about 15 months ago by developing the rel="canonical" link element that is designed to identify whichever domain should be preferred for indexing (http://bit.ly/ht38ab). This link element would be used by the authoritative site to point to the location of the original content on your site.
Those are the main things that you can do to fix the problem of earning rank for articles that you author on your site and when guest blogging on another, higher authority site. There are a lot of people who guest blog by re-publishing their content, but in reality, a better solution is to just write original content on the site with higher authority and refer back to a call to action on your own site to harvest the traffic. That's how we normally do it.
Please write in with your own experiences and thoughts in the comments section below. For a comprehensive how-to on inbound marketing, please download our free white paper, The 10 Essential Steps to Effective Marketing Online.
(image by caitinator)