If you are a regular reader of our blog, then you should already be aware of the importance of developing content for your site – particularly if you want to generate more traffic and leads. While there are many things you could put on your site (blog posts, white papers, general content about your business), nothing helps your traffic to engage with your site more than video. This is because if it's done right, it presents an opportunity for you to very quickly transfer a lot of information in a rich and experiential manner. Writing is fine, but studies show that when given the choice between reading the narrative of a short informational video, and clicking the play button, 95% of people prefer to run the video.
This article provides instruction on how to embed video on the Hubspot Content Management System (CMS). As it turns out, it is not difficult at all, but there are a few things to consider. For example, the CMS does not allow you to actually directly upload a video to its servers and play it from there, instead, you must host the video somewhere else and then paste some HTML code into your site where you want the video to appear. Following are the main steps to take in order to embed video in the Hubspot CMS:
Start an account on a hosting platform such as YouTube, Vimeo, or Viddler.
Upload your video to the hosting platform within your account
Capture the snippet of HTML automatically generated when you upload the video
Paste the snippet somewhere on your Hubspot site within the CMS.
Now lets take a closer look at each of these steps:
Start an Account on A Hosting Platform
We decided to use YouTube to host our video, and have set up an account there. It looks like the account resources are reasonably robust offering adequate options to control access to your videos and to select a preview image for your page. The You Tube account also provides a good analytics page under the 'Insight' tab that presents data regarding view count, demographics, etc.
Upload your video to the Hosting Account
Uploading a video is just a matter of clicking the upload button and browsing your computer for the one you want. When it's done, you will see this screen: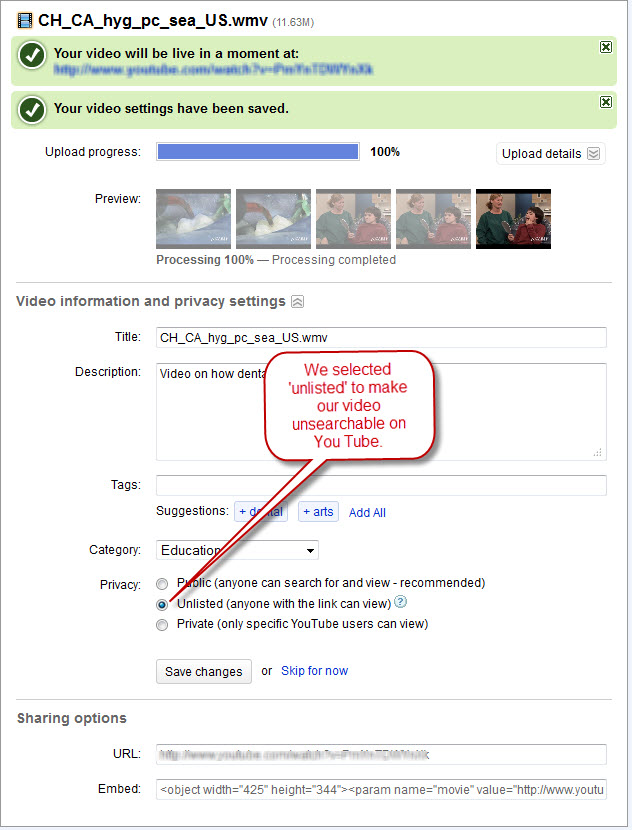 Capture the Snippet of HTML Code Notice that there are two sharing options: the first provides you with a URL that you can send to people via email, while the second enables you to embed code on your web page to play the video there. You need to copy the Embed code from the bottom of the screen to make the video appear in your Hubspot portal. We decided not to allow our video to be indexed on You Tube because it was proprietary to our customer who did not wish it to be openly distributed, so we selected the 'Unlisted' Privacy setting.
Paste the Snippet on Your Site Getting the video to work on your page is really easy and for our customer's site, we were able to select between two slightly different looks:
1) With Frame and Title: Add a new module of type 'Content' and then select the HTML button from the editing tool bar, and then paste in the snippet there which ends up looking like this: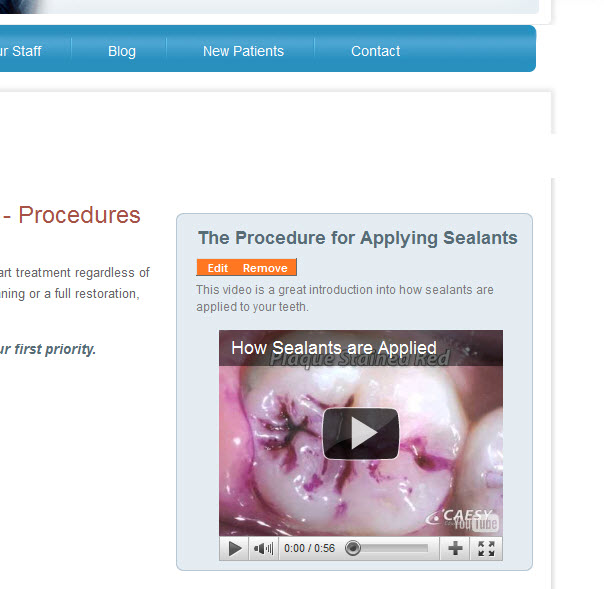 2) Without Fame and Title: Add a new module of type 'HTML' paste the snippet in the box that comes up after de-selecting the two boxes on the bottom of the module edit box (no title, and no formatting) so that only the video player and any text you pasted with it is visible which looks like this: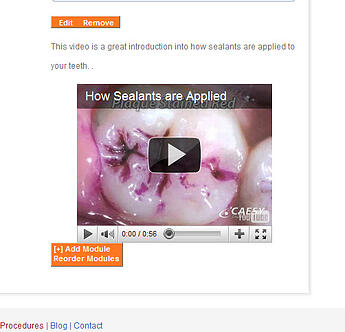 There are a number of other hosting platforms that will do the same thing, but You Tube is one of the more well known solutions and we have found it to work well.
What experiences have you had in trying to embed videos in the Hubspot CMS, or elsewhere? Any feedback for us?
Need help with your inbound marketing? Take a look here!