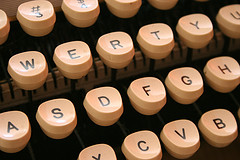 Often, when discussing the need to start a small business blog with my newer clients, they will respond enthusiastically with something like "oh! That's great because I can write really well". Indeed many do write well, but I've found that it takes considerable guidance to get them to create content that actually works well for them from an Inbound Marketing standpoint. I am, in part, writing this blog for my clients as the first and most important step in their content creation efforts.
Writing a small business blog is all about balance. Most likely, your objective is to get people to read your blog so that they come back to your website to interact with your brand, eventually converting into a customer down the road. The balance part comes in between:
Getting your articles found
Creating posts that are pertinent to the audience you wish to attract
Producing a quality product that keeps them coming back for more, ultimately establishing you as a thought leader in your area.
To accomplish these objectives, you will need to focus on several key areas, as follows.
Get Your Blog Found On Line
You might be writing the greatest small business blog going, but if potential clients can't find it, then you are pretty much wasting your time. You need to make it clear to search engines like Google what your blogs are about and remember, each post acts as a stand-alone web page and a separate opportunity to rank for its own keyword. Here are the key things to remember in this regard:
Keyword research – take the time to make use of a decent keyword research tool and develop a keyword strategy.
Use your keywords – be sure to include the keywords you have selected in the right places in your small business blog posts. Take care to integrate them into the framework of your article from an SEO best practices standpoint, but don't overdo it (can you guess the keyword I'm targeting in this post? It shouldn't be 'throbbingly' obvious)
Promote your articles – make use of social media to put your great content in front of the right people, i.e., those who follow you on Twitter would be a great candidates for this strategy
Write Compelling Content
Once you have settled on a keyword strategy and figured out how to optimize your post, be sure to write something that your readership will be interested in and motivates them to come back to your site to read more of.
Meaningful Topics – Write about the things that your potential clients are going to find interesting and useful. Try to put yourself in their shoes and figure out what it is that they would really like more information on that intersects with your business.
NO SALES TALK!!! – I can't believe how many people miss this point.

No one

wants to read about your products in a blog. Remember that there is a lot of great information on the internet so people adopt a "what's in it for me" attitude and you need to feed that appetite. Writing about how great your product or service is doesn't encourage

anyone

to visit your blog more than once.
End your post with a question – try to engage your readership by inviting them to comment on your blog and continue the discussion. This discussion can be difficult to get started, but be sure to ask for comments nonetheless.
Produce Quality Posts
It's not always easy to come up with fantastically interesting topics to write about, but each post that you write should follow the general rules of quality blogging.
Break it Up – be sure to use lists, bolding and underlining to help the reader's eye. Writing a small business blog that people are willing to read means you should make it something that they can scan and still get something out of – scanning is not possible with thick blocks of text.
Include an image – images add a lot to blog posts, they are the flower that entices the first glance to migrate into a commitment to read an article through
Add value – whatever you do, find a way to add value. If you can't find anything to say, do a review of something in your industry, or think about issues you faced during your week and turn one of them into a post (that's how this one was started). Alternatively, engage someone to help with your small business blog.
As you complete each blog post, don't immediately publish it to the web. Let it sit for an hour, come back and read it through one last time and correct or fine tune it as may be required.
What do you think? What are your experiences with blogging, do you have any additional input to add to this discussion? Please comment below!
(image by aprillynn77)