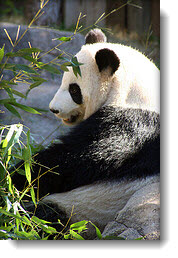 To begin with, how many of you have even heard about the so-called 'Panda Update' launched by Google in February of this year (2011)? I'm kind of betting that if you have been adhering to Inbound Marketing protocol properly, then you probably don't know about the update and don't care because you most likely have not felt its impact. I'll explain why, but first, a little background on what the Google Panda Update is about.
In their quest to provide excellent user experience, Google is very interested in providing their search engine users with quality results for their searches. In this regard, Google is constantly making modifications to the algorithm it uses to provide its search results and the Panda Update is one of the more radical, theoretically game changing series of changes to come down the pipe in some time.
Essentially, Google started by taking inputs from groups of people relative to particular sites that they liked more than others and evaluated them against a long list of metrics. Google also took inputs about sites that these people liked less than others and evaluated these sites against the list of metrics. Once done, Google basically created the Panda Update to the search algorithm to re-rank sites based on the relative profiles of these evaluations. In short, the algorithm now ranks sites by emulating the way that the control groups picked sites they liked and did not like.
What do You do Now?
The next step, of course, is to figure out what it is about a website that Google might decide to lower its rank for. In reality, it seems, the better approach is to think more in terms of what makes a better user experience and then focus on making your site accomplish that. Here are 5 steps to recover from the Google Panda Update, if your site has been effected:
To begin, Google's Amit Singhal has provided some 'guidance' in the Webmaster Central Blog in the form of some 23 questions to ask yourself about your site when thinking about user experience. These should help understand the direction the Google Panda Update is taking and help you re-direct your site.
Based on the above, you need to start thinking about branding your site into something that can be trusted as a thought leader and reliable resource relative to your field
Make sure the flow and design of your site is appealing, clean and easy to navigate.
Good, unique, and grammatically correct content isn't enough anymore – now you need content that makes people raise their eyebrows and say "Whoa, that's something I'm going to forward".
Determine if you are hitting the mark by evaluating key metrics like bounce rate, organic search rate, time on site, etc. to see if you need to go back and re-evaluate additional changes to focus on.
So, back to the question of why, if you have been following Inbound Marketing protocol, you might not have been aware of Google Panda Update. If you look at the above list of things that you can do to recover from Panda, you will recognize them as basic Inbound Marketing strategies that you are probably already doing as an Inbound Marketer!
Are you familiar with what you should be doing and is your site performing the way it should? We invite you to a free competitor website comparison and evaluation to find out for sure: