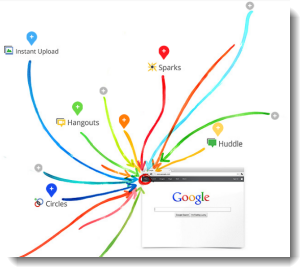 Google+ has landed, but is it any good? We all saw the arrival (and spiraling to the ground in flames) that happened with Google Buzz which may make you wonder if Google+ is going to be just another episode of the same. Following is a brief overview of the key features that were rolled out with Google's new social media venue, Google+, along with our assessment that attempts to answer the question: is Google Plus better than Facebook.
Before going into it too deeply, one of the first things we noticed is that the Google+ Home screen seems a little cleaner when compared to Facebook. Five tools currently comprise the entire suite, and are outlined here.
Circles – similar to Facebook groups, circles allows you to categorize people so that content can be channeled appropriately: no point in having your mom see pictures of you doing things you don't remember doing last time you were in Vegas. This is a very useful and seemingly straightforward feature as it allows you to naturally partition your social circles as you do in real life.
Hangouts - There are already hints that this part of the Google+ tool may be the killer app that ultimately challenges Facebook. Basically this tool allows you and up to nine others video chat and IM simultaneously. The application allows you to control who can see that you are hanging out, and will indicate to others in your circle that you are running a hangout so that they can jump in. Today, an article in the NY Times gave the Hangouts feature high marks, making the point that many of us are already sitting in front of our computers logged into Gmail, so joining a Hangout from there is almost too easy.
Sparks – You provide several keywords to track, and Sparks will provide a stream of links and articles that may be of interest to you, giving you the ability to share them within your circles
Instant Upload – Google+ makes an effort to simplify and improve photo and video uploading and sharing, and provides you with the controls to allow you to manage who sees what. You can also control whether or not people can comment or re-share your photos which is definitely a nice feature.
Huddle – This tool allows you to simultaneously text with a circle of people via cell phone, so that everyone is in the discussion at the same time
So, is Google Plus as good as Facebook? We liked a lot of the key features, particularly the configurability of the system to let you control things more than Facebook, and we like the idea of the Hangouts feature, but early feedback we are getting is that there is still a fairly significant learning curve to this social media venue, and this is something Google should have avoided at all costs so as not to be lumped in with the same problem Facebook has had.
Nonetheless, we think it might be a contender, so once it's out of the Limited Field Trial phase, give it a shot and let us know what you think. Or, if you are part of the test group and are already using it, please share your thoughts now.
Update (7/20): Google has raised the stakes further by purchasing Fridge. This move clearly demonstrates Google's level of commitment to winning in the social media space
(psst! Don't forget to subscribe to this blog - see above)