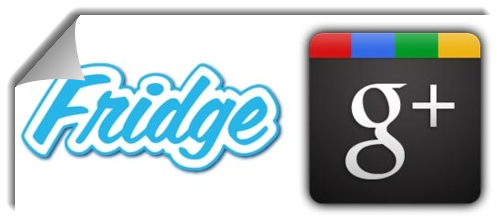 Google seems to be serious about developing its fledgeling social media venue, Google+, into a true contender to Facebook as it struck a purchase deal last night with a relatively tiny social media venue called Fridge. Fridge is basically similar in function and philosophy to Google+ in that it has strived to keep things simple and clean. It is a private collaboration tool that, in the words of Fridge enables:
"Simple personal networks that anyone can instantly create to share photos, messages, and events with specific friends and groups"
Fridge makes the coordination of groups from many aspects simple, enabling members to create groups by combining email addresses, twitter handles, and Facebook friends.
Different aspects of a group activity in Fridge can be tagged and chained together with magnets so that the entire thing can be collected up and stored when the activity has completed. Another totally cool aspect explained in the demonstration video on their site is that you have the choice to permanently delete data if you so choose.
Fridge seems to align well with Google+'s circles of friends concepts, so obviously the plans are to integrate some amount of functionality from Fridge into Google+. Earlier today Fridge announced on its blog that it will be acquired by Google, and as a result will be shutting its doors permanently. Existing Fridge members have until next month to back up their data from their accounts before it is no longer accessible to them.
What does the fact that Google Plus buys Fridge mean for Facebook? Well, maybe it's time to take g+ seriously if they haven't already done so... Thoughts?