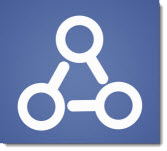 Facebook recently announced beta trials on its newly developed search utility, Facebook Graph Search. There have been references to this new tool being released as a challenge to the Google search engine, but at this point there is no risk of the Google giant being toppled in the foreseeable future.
What is Facebook Graph Search?
Graph Search is basically a database search resource that orients around the user - you. While Google searches for relevant webpages based on terms entered for search, Graph Search is limited to hashing through the Facebook database looking for relevance based on what it knows about you (which in some cases can be quite a lot). Facebook's Mark Zuckerberg released a video that provides an overview of what this "third pillar" brings to Facebook users.
How does it Work?
Facebook Graph Search's mission is to expand the way in which you and your friends are able to share data about one another. But, since the tool is centered on a particular user, you can enter search strings personally specific like:
"friends who like sushi"
"My friends who ski"
"People from work who like beer"
From the massive Facebook database, responses are highly targeted to what the tool knows about you which might make you feel euphoric over the power of being able to search in such a detailed and specific way, or horrified that others can do this too and your data will appear before them.
Can Graph Search be Used for Marketing?
This of course, is the burning question and it seems the answer is a resounding 'yes'. With a more robust way of searching the database, many searches will be initiated by people looking within their reach for products and services that your company may provide. However, bear in mind that results are served in order of the number of likes that have been received so for those companies who haven't focussed adequately on social media, now's the time to beef that up - quickly. Additionally, it is possible to conduct third party searches of the friends of your friends so you can look for possible contacts that might be good for your company based on search parameters that you enter.
Are there Security Concerns?
The key thing to remember is that anybody can run a Graph Search on the data that you have allowed to be public. For this reason, be sure to review the settings you have made in your profile. For example, if you have indicated that you:
Are an airline pilot for a major airline
like getting drunk
Believe risk-taking is the spice of life
someone will eventually cook up a search that my cost you your job. Facebook recently prompted us to review our profile and activity log to see if enything needs to be 'adjusted'. You can find some other 'interesting' searches that were run in this article from the Huffington Post.
Useful Ways to Leverage Graph Search
So, now that you have access to the long awaited Graph Search, what are some of the ways in which you might use it?
Getting Around Facebook - I've always thought navigating through Facebook was a bit of a challenge. Now, with Graph Search, it is easy to find things by entering in the first few letters and the tool pops up the rest, particularly things that have to do with me like my friends
Identify Restaurants your Friends Like - search by location, food type, and whether or not any of your friends have been there. You can also search on books your friends liked, shops they prefer, and recipes they use.
Locate Photos Based on Criteria - search for photos of friends, photos of particular events, areas of town, certain age ranges of friends.
Networking - look for people who work at a particular company (remember, the results include friends of your friends so ask for an introduction). look for what these people like to do to use as the starting point of a discussion.
Have you had a chance to play around with Facebook's new Graph Search tool? We'd love to hear about your experiences!
Image: Sean MacEntee