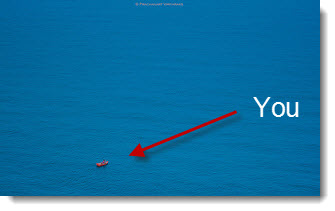 Contratulations! You've put a lot of time and effort into building your new website because the old one was tired, boring, and just plain, well, old. You may have sunk considerable wads of money into the redesign project by signing on the best graphic designer you could find, and she spent weeks listening to your requirements, understanding your business, and figuring out what you do and don't like about your existing site. She then built your site taking your input into consideration and after many versions and revisions, now she's finally done, and the site looks absolutely fantastic!
You find yourself strutting around the office like Foghorn Leghorn, basking in the high-fives that are cracking around the office because now, with specific thanks to you, the leads are going to start pilling in and the CEO is going to finally GET OFF YOUR BACK, right?
Indeed, this story can come to fruition, particularly if you are an up to date, modern online marketer who knows how to make SURE it happens. However, we are in a transitional period in marketing history with a migration from interruptive forms of marketing in full swing. buyers are more informed than ever and don't even need to talk to you to figure our your products and services to decide whether or not to buy because today they all shop on line. The clincher is that many of us still don't know how to position our companies online for success and simply designing a beautiful website just isn't enough.
So, now that we've built up this great venue, just exactly why is it that still no traffic comes to the website and how do you fix it? The fact is, there is no automatic way for your desired web traffic to find you on the internet just because you have plugged in a new and improved website. Making changes to your site is great for the people who already know how to find you, but it does nothing to help new people find you.
In order for your site to be found by the people on the Internet that are looking for your products and services, your content needs to become recognized by search engines as something valuable to serve up to them. For example, we have optimized this article around the longtail keyword "No traffic comes to my website" because we are in the business of helping people with that particular problem.
Following are the necessary and essential elements to getting found on the Internet that you should focus on:
Buyer Personas - The first thing to do is to figure out who it is that you are trying to attract to your site. If you are in the business of selling tissue paper, maybe you want to catch the attention of people with children, or those with allergies, or maybe it's mostly women. the point is, once you know who it is that you want to come to your site, you will be able to develop content to attract them so research your buyer personas.
Keyword Selection - Now that you know who it is you want to appeal to, you need to get into their heads: what is it that these people will enter in to Google in search of your product or services? Create a hefty list of 200+ keywords that you can use to build great content for your site to be consumed by your buyer personas. Why? Read on...
Site optimization - Armed with a website containing remarkable content optimized around the list of keywords, Google is able to understand what your site is about and will serve up your blog articles and other content in response to the keywords that your personas enter as search strings. Make sense?
Analyze Site Performance - Be sure to make use of some good internet marketing software to help you understand how well you are doing and where you might need to make improvements. Be careful not to select a software solution that is too thin by only covering one or two pieces of the picture.
Be a hero with your boss and do it right the first time. Don't just rebuild your site, transform it into a marketing machine! Lets put an end to those video playing gas pumps once and for all.
photo: Nik Cyclist