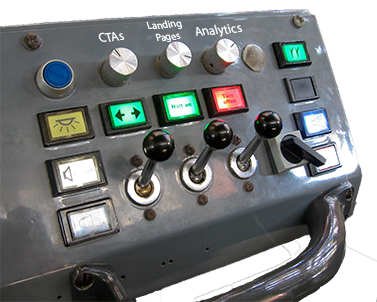 Most businesses today are aware that their marketing strategy should be focused differently than it had been over the past 50+ years. Inbound marketing leverages tools and metholologies that align to the way that buyers are searching for products and services. It is a form of marketing that focuses on attracting interested prospects rather than driving messaging that interrupts them (radio, TV, print ads, etc).
Buyers no longer need sales people to educate them because all of their answers can be found on the internet. This means that we, as marketers, need to execute strategies that attract our ideal buyer personas to our products and services through educational content and then gradually nurture them down our sales funnel.
The process for properly implementing inbound marketing has many moving parts so an internet marketing system that pulls all of it under one roof is absolutely essential.
Digital Marketing Systems Organize your Operation
We need a way to organize the process so that we reap the benefits in a predictable and easily repeatable way. Thankfully, there are internet marketing software solutions available today that do just that. BUT, not all marketing software solutions are created equal. Let's review the most important internet marketing features to look for when shopping around for an online marketing system.
10 Features of the Best Internet Marketing Systems
As you read through the following important elements of a really good system, make sure you earmark this page for future reference as you search for your solution.
Attract Visitors
Most businesses either don't have enough website visitors or are attracting the wrong type of traffic. This can happen if the site's messaging is misaligned with the underlying business, or if the on page SEO has not been properly handled. To ensure adequate volumes of traffic that are required to generate a healthy flow of leads, you will benefit from a marketing system that provides a framework for content creation, tools for optimization and methods for content promotion.
Blogging Tool - One of the best ways to generate new content and attract new visitors to your site is to author optimized blog posts. In fact companies that blog typically see over 50% more visitors to their sites than those that do not. Make sure the blogging tool:

Has built in keyword engine
Allows you to easily plug in calls to action (CTAs) that direct visitors to appropriate offers for conversion
Automatically optimizes for mobile
Has a rich suite of analysis tools to tell you how you are doing including views, subscriber count, CTA conversion stats and inbound link data.



Social Media Management - Maintaining all of your social media accounts within a single tool can save tremendous amounts of time. Often, you will want to send out the same message across Twitter, LinkedIn, Facebook and others. Streamlining this process by creating a single message that is automatically replicated across all accounts is an invaluable time saver. Look for a software system that has the ability to:

Focus on people who matter to your business rather than just keywords
Trace the interaction of these people with and across your entire site.
Form a detailed picture of where visitors and prospects are in your sales pipeline to enable you to address them at their stage in the buyer's journey
Create segmented lists of your existing leads and track their social media interactions



SEO Tools - Make sure there are tools included that report on the performance of the keywords that appear on each page of your website. Knowing how well each of your pages rank for particular keywords enables you to guage how well your efforts are paying off and where they are not. You can then modify your tactics to improve the optimization of poorly performing pages.


Website Design Environment - Without a doubt, your marketing software solution should include a content management system to allow you to make quick changes to your website without the need for a front-end web developer. The environment should also:

Automatically be mobile optimized through responsive design (ie. site pages scale gracefully and automatically across platforms - desktop, mobile, tablet)
Support contextual marketing. Returning visitors should be presented with calls to actions that are different from the ones they previously downloaded from your site in the past, and should not be prompted to re-enter form fields with information already collected during a previous visits.
While template based design is a must, so is access to editable HTML and CSS to maximize design flexibility and templates should be easy to design using the bootstrap framework.
Convert Visitors to Leads
Calls to Action - Building a call to action button should not require the services of a specialist to accomplish. Your marketing system should include a method to build inspirational graphic solutions that attract visitors to click through to landing pages and explore your offers. Beyond this, they should be smart enough to recognize the life cycle stage of a visitor and serve up an offer that aligns with this stage automatically


Landing Pages - Should be simple to build and not require a designer to complete. The landing page tool should help you to:

Create a heading and build out the content
Generate an appropriate form
Integrate with follow-on work flows that help nurture your leads
Manage the delivery of content downloads followed by automated thank you pages and emails



Manage your Leads - The data your landing pages collect is yours so the system should possess a robust leads management capability that lets you slice and dice the data the way YOU need for your marketing approach. The system should help you to:

Both define specific fields for the form and enable viewing of all the information collected
Create segmented lists based on personas of interest that can be used to drive lead nurturing workflows
Allow you to add your own fields
Track each lead's timeline from initial contact to most recent interaction with your site including the exact hour and minute
Close Customers
Email - The email tool should work seamlessly with your leads database and should include:

Numerous templates to test with, and an ability to create more
Analytics to evaluate how your email send performed relative to open rate, click-through rate and bounce rate
Direct mailing as well as automated drip campaign connection to workflows



Workflows - Develop and control campaigns to interact with different prospects depending on where they are in the buyer journey

Source prospects from social media, email, landing pages or manually from your contacts database
Segment them into appropriate marketing lists
Smart lists should automatically enter new members into the appropriate workflow as they qualify to be added to the list based on events you define



Analytics - At the heart of any marketing software is an analytics engine that pulls data from all corners of the software and compiles it into an easily interpreted format.

Visits and customer volume identified by source channel vs. time shown in a clear graphical presentation
Details on site interaction including all activities from first contact through to most recent action taken help you determine the right time to take the right response with the right contacts
Email marketing results and analysis
Call to action performance
Page by page performance
Competitor analysis with graphical comparison
Social media metrics
Blog performance
Landing page effectiveness
Keyword performance
Inbound links including value and source



Customer Relationship Manager (CRM) - Now that your site is attracting large volumes of visitors from which you are generating a dense flow of leads, you need a CRM to coordinate your reach-out efforts.Your CRM should:

Have direct access to and ability to update events on a common marketing database
enable dialing leads directly from the environment
Include lead intelligence from an embedded company database
Provide pipeline stage and quota tracking for each of your salespeople
As time goes on, more vendors appear on the market with systems that do some of the above. Unfortunately, only a few come close to providing all of the features that are really needed and only one actually exceeds expectations. This is the vendor that we use (as you might imagine) and that's Hubspot. If you'd like to know more about this state of the art tool suite, please click below.
Photo Credit: Marcin Wichary