Web-logging or as it has now become 'Blogging' was a trendy thing to do in the 1990's when people did it as a way to interact online. We wrote about hobbies and philosophies, recipes and the like - it was a way to socialize on line.
So, Do I have to Blog Today?
If you have been marketing on line for a while, or even if you are just now starting to look into what it takes to generate traffic to your site, very early on in your quest you start hearing about blogging. We represent one of the leading Cardiovascular Consultancies here in the United States, who have fought tooth and nail not to blog, and under no circumstances would they Tweet.
"Look, I hear what you are saying about writing a blog, and I know how I will benefit from it, but it's just a little too hip for my generation"
This was essentially what we heard from our client for quite some time. Week after week of coercing scant blogs from these guys, begging for consistency finally started them blogging regularly to show strong results for this company as the traffic meter started to twitch at first and then began to sail north of 600% increase after 6 months of effort.
So, to answer the question in the H2 heading above, in short: more Google indexed pages --> Traffic --> Leads --> Customers --> $$$, and blogging is an easy way to build up pages.
Check out this graphic from the good folks at Hubspot that demonstrates the fact statistically: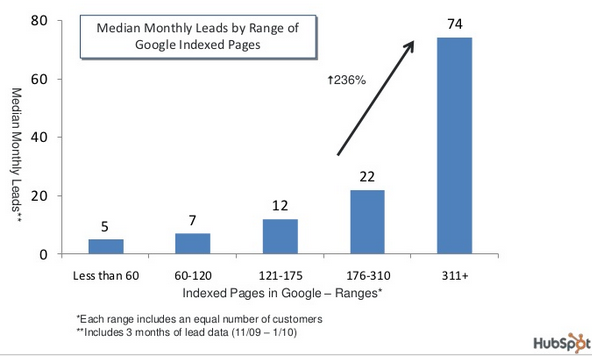 This data holds true today, in fact we see this happen with our customers who couple their efforts with a consistent application of an inbound marketing strategy. Notice the substantial jump in leads when the count of Google indexed pages exceeds around 311.
Okay, that's one data point, now lets move on to the meat of the discussion. Following are the rest of the top 17 Statistics that highlight why you should be blogging on a regular basis.
81% of U.S. online consumers trust information and advice from blogs. (Ref: BlogHer)
By 2013, it is projected that 128 million people in the US will be blog readers. (Ref: MyMarketingDept.)
82% of marketers who blog see positive ROI for their inbound marketing (Ref: Hubspot)
43% of marketers generated a customer via their blog this year (Ref: Hubspot)
82% of marketers who blog daily acquired a customer using their blog (Ref: Hubspot)
Blog posting is the number 1 content modality used by professional internet marketers (Ref: Moz 2012 SEO Survey)
77% of internet users read blogs (Ref: The West Program)
According to Universal McCann, 58% of bloggers surveyed say that they are better-known in their industry because of their blog (Ref: The West Program)
Blogging remarkable content that helps your readership serves to build corporate thought leadership resulting in strong brand recognition
small businesses that blog get 126% higher lead growth than non-blogging businesses.(Ref: Hubspot via: ThinkCreative)
Customers who blogged generated 67% more leads over a 3 month period than those who don't (Ref: Hubspot)
The more Google indexed pages your site has, the higer ranking it is in search results
72% of companies who blog weekly acquired a customer through their blog (Ref: The BrandBuilder Blog)
89% of companies who blog more than 2X per day acquired a customer through their blog (Ref: The BrandBuilder Blog)
The more content your website has, the more opportunity it has to be found in Google search
Small businesses that blog get 55% more website visitors than those that do not blog (Ref: Hubspot via: ThinkCreative)
So, that about wraps it up. We'll leave you with a thought by Michael Port that he shared during The Influency Project that helps tie the ribbon on this discussion on blogging:
"Consistency demonstrates commitment. You're going to earn trust because you're consistent."
-@michaelport
The main thing we tend to have a tough time with when blogging is how much time and effort it takes to do. To this I can only repeat what my uncle and life mentor used to tell me:
"If it isn't hard, it probably isn't worth doing"
Get yourself in the groove, create a blogging plan at the beginning of each month and engage with your following in a predictable way.
Image Credit: Charles Jeffrey Danoff