It's tough to keep up with all the changes within social media venues, let alone find the time to evaluate all the new ones that come along. With over 200 million users, LinkedIn is the professional networking tool making long strides to align itself with mainstream venues like Google+ and Facebook.
Leverage the Low Hanging Fruit
While LinkedIn has made some substantial changes to its interface over the past months, it's not difficult to optimize the way that your brand is represented there to make sure you are taking the best advantage of the tool. Open another tab in your browser and navigate to your LinkedIn profile page and take a few minutes to optimize your account as you follow along with our list of 10 top strategies for optimizing your LinkedIn account.
10 Quick & Easy LinkedIn Optimizations
Public Profile Custom URL

Personalize your Linked In URL and make your profile more professional looking. Creating a Public Profile URL will convert your URL from a confusing jumble of numbers to one like mine: http://www.linkedin.com/in/rastello

LI Badge

While you're on the page from the previous point, look in the bottom right of the first screen and build a profile badge for use on your website. I included my profile badge under the about us page after my bio.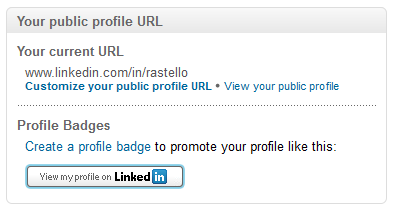 SEO on your profile

Don't forget to optimize both your profile and your company page for keywords that you wish to get ranked for. Remember best practices and let the dialog flow without forcing your keywords in place.

Linked In Applications

Have you been using this feature of LinkedIn? Be sure to double check because LI Applications no longer exists. This has been replaced with a new feature that lets you display samples of your work on your profile by linking to or uploading images, presentations, videos, or documents. If you had been using Applications in the past, be sure to visit the link above to find out what happened to your content.

Arrange your profile

LinkedIn allows you to position the various segments of your profile in the order that makes the best sense to you. Log into your account, select edit mode, and hover your mouse over the little up/down arrow in the top right corner of each module. grab the corner and re-locate the segment where you want. Not all modules can be re-positioned, the top one with your photo, name and title remains anchored at the top, of course.

Recommended Additions

Take a look in the right hand margin of your profile when in edit mode and make use of the suggestions found for making your profile more robust. I revisited this area while writing this article and realized I had omitted a patented invention from my profile that had been granted some years ago.

Resume Builder

Linked In is the defacto standard for professional networking. One of the coolest features in support of networking is the Linked In resume builder. This feature pulls the information on your public profile and automatically populates it into a resume for you to email or share as you like. There are a variety of templates to select from.

Expand Your Reach with Linked In Groups

Take a look through the available groups under the interests navigation drop-down and, just as you would for any social media venue, jump in and add value. This is a great way to expand your reach because you are able to message members of groups without using up your In Mail credits or being a first degree connection.

Create Your Own Industry Group

Position yourself as a thought leader in your field by starting a group of your own. Notice that this can be a great way to generate leads because as the administrator of a group, you are able to communicate more directly with members by sending emails to them! While not unlimited, you can do this up to once per week.

Create & Maintain Your Company Page

While it's obviously key to make sure you have updated your profile in order to market yourself better, don't lose sight of the need to promote your company. The relatively new company pages format offers an opportunity to create a strong visual presence and a venue to share updates about your products and services. Take full advantage of the opportunities to promote your company with an eye catching cover image. While the About Us module may seem a little lost at the bottom of the column, remember you can include a position statement or value proposition with the cover image.
Don't forget to explore opening a Pro account subscription. One of the best things about this is that you will be able to see everyone who viewed your profile by name - very handy.
Interested in what it takes to pull together an inbound marketing strategy? Click the orange button: