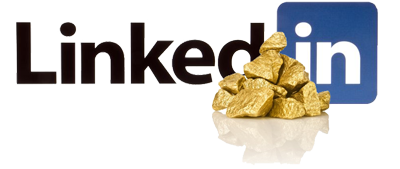 Over the years Linked In has morphed from a great networking tool into an incredible prospecting machine - if you know how to use it. Following are key, best approaches to promoting yourself and your company on LinkedIn, and tips on how to prospect for business using this powerful tool.
Promote and Prospect on Linked In
So without delay, let's jump into the essential elements that everyone should include in their personal profiles to promote and prospect on Linkedin.
Promotion
Customize Your Public Profile URL - This is low hanging fruit and something everyone should do for their profiles. Rather than leaving your profile URL as a tangle of letters and numbers, take a moment to set up a customized version. For example, my customized URL looks like this: https://www.linkedin.com/in/rastello which is far more memorizable than something like this: www.linkedin.com/pub/johnny-cypher/83/9a0/4a7.


Build a 'View My Profile' Button - Create a LinkedIn button and place it on your website's About Us page. This is a great way to direct visitors to your public profile or LinkedIn company pages. Access via this button allows visitors who either have no LinkedIn account or who do have an account but are simply not currently logged in to view you on LinkedIn. There are a number of different versions of buttons to pick from on the linkedIn profile button page depending on your intended application.


Profile Optimization - Don't lose sight of the fact that people are continuously using the Linked In search window to find people like you, so be sure to identify and use specific keywords in your profile for which you'd like to be found. For example, someone in the pet-walking business might include 'loves animals' in their profile. People looking for profiles that contain those keywords will enter them in the search window to ultimately find you. Just doing this broadens the quantity and quality of searches leading to your profile - enable 'targeted traffic.'
Marketing, Networking and Prospecting
Make use of Saved Searches - One of the most powerful parts of LinkedIn is its advanced search function. You can slice and dice your connections database many different ways so it's important to remember to save your most productive search criteria for easy call up next time. Saved searches allow you to configure the tool to send you notifications via email when new profiles match your criteria so that you can immediately take whatever prospecting action you deem appropriate.




Skill Endorsements - Your 1st degree connections can endorse you for skills that they feel you posess. The best thing about endorsing someone is that it is very easy and quick to complete which increases the likelihood that someone you endorse will reciprocate by doing the same. Help reviewers by listing up a set of skills that you wish to rank for by adding them to the skills section of your profile. Others can create additional skills to endorse you with but these additions won't go live until you first approve them.


Home Page Updates - Click the 'Home' link in the main LinkedIn navigation menu to view posts and updates from your connections. This is an opportunity for you to comment on their submissions which, in turn, boosts your own visibility as a thought leader.


Remember to Check Your 'Pulse' - Pulse is a tool that allows you to create a filtered news stream specifically tailored to your interests. Home page updates are great, but they can become a mix of posts, some of which may not be of interest. Filtering pulse can be a real time saver that helps you fine tune your reading to exactly the topics you are interested in. Also, you can install Pulse on your mobile phone for real time updates when away from the computer.


Anonymous - Why Cloak Yourself? - LinkedIn is a social engagement tool, so let people see who you are! It makes no sense to hide yourself on LinkedIn. Remember to go into your settings and click 'Select what others see when you've viewed their profile' and enable the recommended permissions there - don't be anonymous, it's like wearing a bag over your head at a party. Not recommended.


See Who Visits your profile - Go to your profile and click on the little section in the right column entitled 'Who's Viewed Your Profile' to see the latest 5 (or more) people who have viewed your profile. The tool includes an analysis that tracks the number of views over time, the number of viewers who found you from people similar to you, most common title etc. Another nice perk is that you are able to request to connect to anyone who has viewed your profile, as long as they aren't 'anonymous' viewers.




Export your Connections - Many people like to maintain their contacts within other tools and databases which is why LinkedIn allows you to save a copy of your contacts. Use the main navigation and go to My Network/Connections and then click the small gear icon in the top right corner of the banner. On the next page, note that an option to download all contacts is located in the panel under 'Advanced Settings.


Searching your Connections' Connections - This is a great way to research who you should reach out to from the list of connections that your own 1st connections have - ie. your connections' connections. Just go to any of your connection's profiles, click on the displayed number of contacts they have, then hit the little grey magnifying glass at the next screen, and enter a search term there - Fantastic! Note that you will not be able to see all of their connections if they have opted to only list people whom you both share as common connections.




Do You Belong to Groups? If not, you're missing out on another great LinkedIn opportunity. Outside of a Group, you would need to request an introduction to those who are 2nd degree or higher through a common 1st degree connection . However, for all members within the same group, it is possible to reach out directly to one another without an introduction from a 1st degree connection. This is a super powerful way to meet new people and grow your network accordingly.


Build Out a Company Page - Create a centerpiece to promote your organization within LinkedIn. There have been lots of changes to the company page over the years so it's no longer adequate to just build it and ignore it. Be sure to come back and check up on your company pages on a regular basis. For detailed information, check out our guide to building a company page for great pointers on getting it done.


Showcase Pages for the Company Page - Not too long ago there was an area within the company page where you could position your company's products and services. These no longer exist, instead, there are Showcase pages. You can use these pages to create an active presence in specific facets of your business. For example, if you own a sporting goods business that caters to climbing, wake-boarding and horseback riding, you could create a showcase page for each of these areas to directly address their associated specific buyer personas. Be sure to keep them alive and up to date (again, download our free guide for details).
Premium Membership
I resisted signing up for a premium LinkedIn upgrade at first because there are so many useful tools that come with the free version of LinkedIn that I couldn't imagine there was any need to pay for more. However, I have had a premium membership now for years and it pays off in spades every day. Here are some of the key elements that come along with this membership:
Larger portfolio photo with customized background - Make your profile stand out with a larger personal photo, customized background and an overall larger listing that allows you to show more to visitors.


See who's viewed your profile - The free version of LinkedIn allows you to see the last 5 people who viewed your profile, which is helpful, but premium removes this limit and allows you to see everyone

who viewed your profile over

the preceding 90 days. This allows you to clearly see trends and to track history effectively.


Introductions - Get introduced to people

within a particular company

through your connections


Performance Analytics - Gain insight into how you are being found by looking at trends over time, terms entered to find you, where people who found you are located and the companies they work for. This feedback is critical to helping you sculpt your profile properly.


InMail Credits - InMail enables you to send messages directly to any LinkedIn members regardless of their connection level.


Open Profile Feature - Basically these are free InMail messages that can be sent to any other member who has Open Profile switched on in their profile. You will also need to have Open Profile engaged in your own profile in order to use this powerful feature.


Saved Search Alerts - Advanced searches that you create can be saved and enabled to send you a notification when new member profiles fit the seach.
The above listing includes some of the essential tools and tactics you should deploy to effectively use LinkedIn as a prospecting and networking tool. I know there are many more approaches to using Linkedn, what are your favorite Linked In tools and ways of promoting yourself that you use?
Please feel free to grab our eBook on how to develop your own LinkedIn company page offered below.