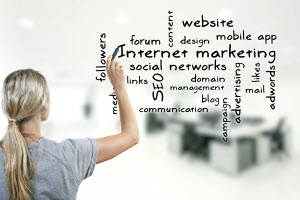 Although it may not feel like a super place to be, the day that you come to the realization that your efforts to promote your website have failed should be a time of great celebration. I'm betting that if you typed "our website sucks" in your search engine, it is because you are swinging to a particularly low point in the way you feel about the situation. This is great, because like many other times in our lives when we are at this point, we start looking for the best way to hoist ourselves out of it. Specifically, you now have a fresh opportunity to be open to new ideas.
Why Our Website Sucks
In the past, or perhaps fairly recently, you may have spent some of you marketing budget on a website facelift or perhaps a complete re-design in the hopes that making your site more attractive/functional/user-friendly would boost both traffic to your site, and lead or customer conversions on it. Perhaps you gave the site several weeks or a month following the redesign to start showing results.
Has that happened yet?
By how much has your traffic increased?
How about conversion rates, have they improved?
Do you think you have waited long enough for results to develop?
Were there other things that you thought you should do to your site that you didn't?
If re-designing your site, or maybe even spending some time optimizing it for search engines has been your main thrust, then you have probably not done enough. Most likely you have something on your site that you want to promote, and you are hoping that once people find your site, they will buy.
How Shoppers Shop Today
The key to bear in mind here is how people function today and the fact that we are all researchers of the internet. As researchers we have the privilege of being able to make educated decisions which means that we may not make a purchase decision the first time visiting a site.
In other words, many folks have a relatively long buy cycle and have no need to hop on the phone to ask you questions about your products or services - they will simply find the information they are looking for on your site, and/or move on the the next one. Because of this, you need a way to keep them engaged by providing the answers to their questions while they are figuring out what they should do.
Do You Need an Internet Marketing System?
Of course it is important for your site to be attractive and appealing, providing a good user experience for your visitors, but it is actually more important that you have a way for visitors to find it in the first place. This is a whole different animal that has nothing much to do with the design that you worked so hard on. Getting found on the internet has a lot to do with working in concert with the goals of search engines, largely Google, since it has the lion's share of search activity.
Google's objective is to provide its visitor-searchers the best experience possible, which means serving up the most relevant results possible. To accomplish this, Google's algorithm does what it can to interpret the value of each page on your site and try to match it with keywords. Then it ranks pages by relevancy, as best as it can, serving them up in the appropriate order on its results pages. So you need optimized content on your site in order to rank for keywords that you think your buyer personas will use to find your products or services.
What to do With Visitors Once They Find Your Site
Now that you have visitors, you need to think about addressing their questions and pain points that your products or services resolve. Know that visitors to your site will be in different stages of their journey on the way to making a purchase decision. Because of this, you will need content that addresses each stage of their journey as follows:
Awareness Stage - Prospect has identified they have a problem to solve, or an opportunity to pursue but have not fully characterized it.
Consideration Stage - Prospect has defined or given a name to the problem/opportunity
Decision Stage: Prospect has selected a solution
The following graphic outlines the different stages of the buyer's journey and the associated content that is appropriate to each stage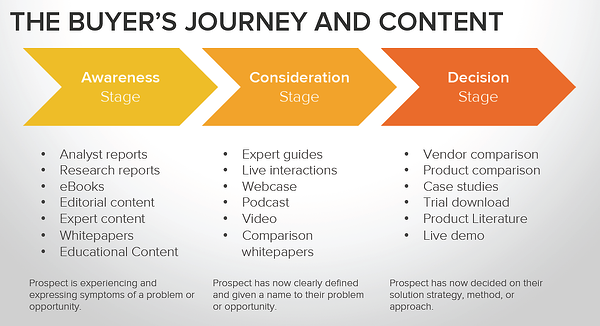 (Graphic by Hubspot)
Publishing, Distribution, Analysis and the Rest
The other parts of your internet marketing system include methods for :
Publishing content

Selecting distribution channels

Nurturing leads

emailing campaigns

tracking social media

Analyzing results with hard digital data
This section summarizes the rest of the elements that will help you build a following, and nurture your visitors into leads and customers. By now you probably have gotten the picture that all of this will take time and planning to accomplish, far beyond a simple website design. To learn more about what it takes to succeed here, check out the following white paper with additional information on how to get started