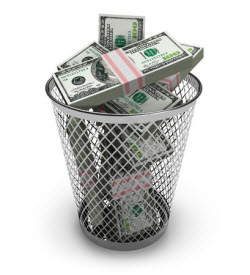 I used to say that if your technology startup website is more than 4 years old, it is definitely time for a complete rebuild. The reason for this is simple. Websites created prior to (roughly) that period are often vestiges of the '90s brochure-style web design that are the marketing kiss of death here in the new millennium.
Let's Take A Step Back to the 1990's
In the 1990s, we didn't expect all that much from our websites. The internet was still sort of a novelty and the company website was only used as a billboard for people to bump into and hopefully call your sales team - that's the way it worked.
During this time, marketers became adept at gaming search engines so that their sites showed up at the top of search results for keywords relevant to their businesses. It was a lot simpler to do this at that time because search engine algorithms were less robust and more easily tricked. Today, it is a whole different ball game in that regard and trying to trick search engines can be seriously hazardous to your business online.
But between then and now, a funny thing started happening: people became empowered to make informed decisions by comparing content and information on competing company sites and because they figured out how to shop online, something completely unexpected happened.
Your Buyers Don't Need You Nearly as Much as You Thought (or Think) They Did
Today, what I'm going to tell you next shouldn't come as much of a surprise to you, but it took many marketers by surprise and required them to make quick and dramatic changes to their online marketing strategies about 10 years or so ago.
Marketers started getting complaints from their sales teams that people were able to research solutions on the internet before ever contacting them and in fact only contacted them when they were either almost ready to buy, or adequately armed with information to negotiate them into the ground.
Enter Inbound Marketing
The game had changed, and everyone recognized it. Now, there is a new paradigm in town, Inbound Marketing, that involves a far more intimate relationship between marketer, salesperson and shopper (or lead), but it is a digital relationship before it becomes a personal one. Companies in the know are narrowing down who their ideal or typical customers are, what they like, where they hang out on line and what their sources of pain are and how to address these with products and services. Successful companies mareketing on line give up these answers for free, perhaps in exchange for an email address for further marketing, but they enable buyers to make the right decisions.
What Does This Have To Do With Technology Startups?
Indeed. Well, in the beginning of this post I said that I 'used' to say that if your technology startup website is more than 4 years old you should update it, but now, I say:
'If you are a technology startup, chances are you need to revamp your website right away but please talk to me first and I'll tell you all about Inbound Marketing and its connection with ROI'
That's the punch line here because in spite of the preceding general knowledge, many technology startups still seem to miss the boat. Numerous brochure-type websites are published by new startups every year. Is that your company? Do you need help figuring out what to do and how?