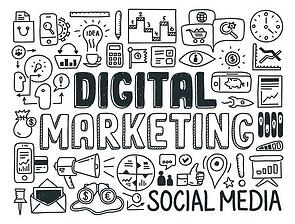 Many of you already know that my background is in electrical engineering. I worked in R&D for 20 years as a wireless telecom IC designer for several large US companies working closely with a lot of other technical people over the course of my career before moving into marketing over 10 years ago.
The reason I bring this up is to illuminate that I understand technology professionals and how they think - because in my past life I was one. We are trained to ask for the numbers before we agree to take something as fact and until the numbers make sense, well, we just don't accept it as anything other than conjecture and most likely false.
What Does This Have to do With Marketing?
Here's the thing: it's astounding how many IT companies clearly have not researched (or understand) modern marketing technology and consequently do not deploy them in the promotion of their businesses. Many IT company websites consists of a 90's style design stuffed with expansive blocks of text and sales messaging that no one is willing to read and not much else.
Successful Inbound Marketing is a DIGITAL marketing approach with numerical analysis at its roots. Determining whether or not your marketing efforts are producing results for you naturally emerges from the analytics.
Following are 5 basic steps to follow when building a productive website that drives traffic and leads to your door:
How Not To Mess it up in 5 Steps
Know who you are selling to and focus your content
Spend the time to identify who you are selling your products and services to all the way down to age, sex, marital status, title, company, where they hang out on line and most importantly, what their pain points are.
Think about who you are selling to
Create a list of traits, as many as you can
Identify keywords that they would use to research your solutions to their pain points on Google
Build useful, remarkable content and then give it away
The idea here is to become an expert or, if you can attain guru status, a thought leader in your area of business. creating and giving away content that helps your prospects address their pain points is in high demand - give it to them in exchange for their email addresses so that you can continue to help/nurture them down your sales funnel.
Start a blog and write in it at least weekly

Make use of the keywords you researched by using them in your blog content
Create content that address the pain points of your prospects
Include material that establishes yourself as a knowledgeable expert
In addition to bread and butter blogging, develop larger pieces that go into greater detail addressing the pain points of your prospects. some of these larger content resources could be:
White papers
eBooks
Case studies of clients
cheat sheets
Promote your content
It's not going to be enough to create fantastic content, optimize it for search engines and expect that your content will be found on line. You will need to promote your content in a number of ways. Some of these include:
LinkedIn, Twitter and Facebook publishing
Referring to your content in the comments section of other blogs
Develop a list of subscribers to send content to
Run analytics to know what's working
Finally, log into your analytics software to see how well your efforts are paying off. Are you increasing traffic to your site with what you are doing? How about conversion rates and blog subscriptions, are they improving? Do you need to modify your content or add more of something? Less of something?
The Short Cut Method
The above abbreviated process can take a lot of time and will require several people to undertake. Often companies find it more cost effective to leverage the services of an Inbound Marketing agency that is well versed in how to generate results for them rather than trying to ramp up a marketing department. Not all companies recognize the amount of effort required and spend a lot of time trying to do it on their own, only to find they need help.