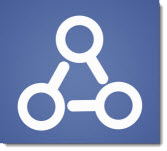 Facebook recently announced beta trials on its newly developed search utility, Facebook Graph Search. There have been references to this new tool being released as a challenge to the Google search engine, but at this point there is no risk of the Google giant being toppled in the foreseeable future.
What is Facebook Graph Search?
Graph Search is basically a database search resource that orients around the user - you. While Google searches for relevant webpages based on terms entered for search, Graph Search is limited to hashing through the Facebook database looking for relevance based on what it knows about you (which in some cases can be quite a lot). Facebook's Mark Zuckerberg released a video that provides an overview of what this "third pillar" brings to Facebook users.